Sessions are held at the Volcano Art Center and in our home studio in Volcano, Hawai'i. For more information email: stokes@lava.net
Zentangle® is an easy to learn method of creating beautiful images from repetitive pattens

FOCUS
CREATIVITY
RELAXATION
CEREMONY
TIMELESS
PORTABLE
EMPOWERING
UPLIFTING

SIMPLE
ELEGANT
FUN
EXCITING
UNEXPECTED
BENEFICIAL
COLLECTIBLE
PERSONAL
ABSTRACT
and
very
cool!
Zentangle is enjoyed by a wide range of skills and ages.
Non-Artists are welcome and encourged to participate!

Learn Zentangle® with Lois & Earl Stokes,CZT
Certified Zentangle Teachers, Big Island, Hawaii
Individual or group sessions 
Children or Adults
$40.00 for two hours
In our home studio ~ Volcano, Hawai'i
Other locations and special group rates can be arranged

"zentangle", the red square, and "anything is possible, one stroke at a time"
are registered trademarks of Zentangle, Inc.
Developed by
Rick Roberts and Maria Thomas
www.zentangle.com



Volcano Art Center - in the village

2020 Classes at VAC - Second Saturday of each month 10AM-1PM

Call the Volcano Art Center 967-8222 to register




Upcoming Classes




>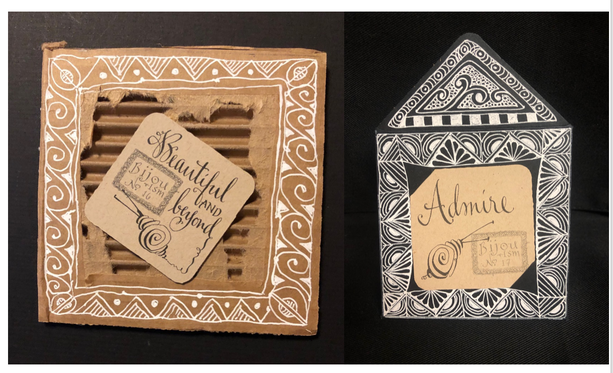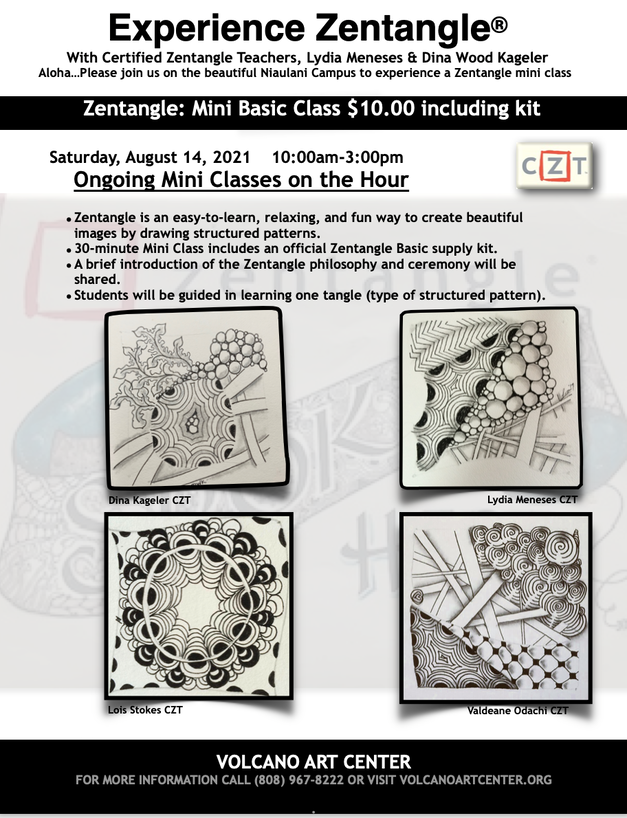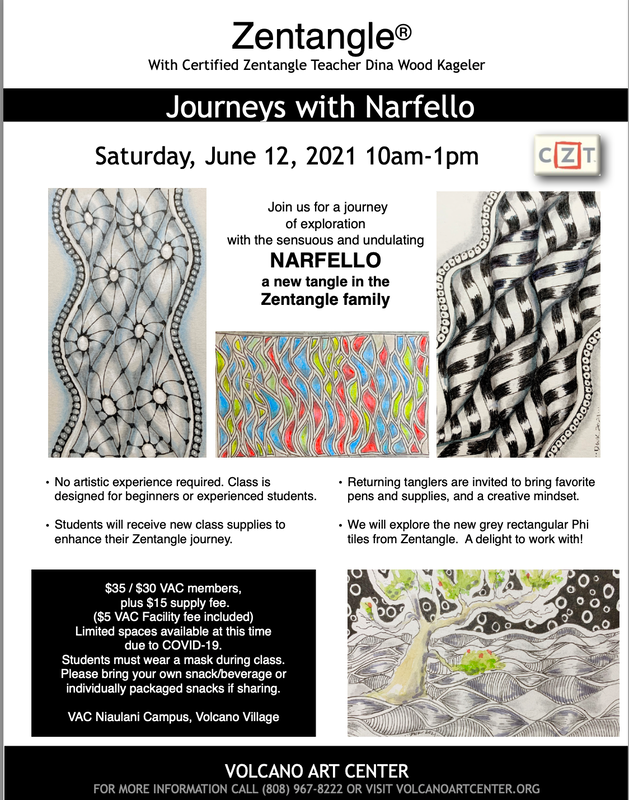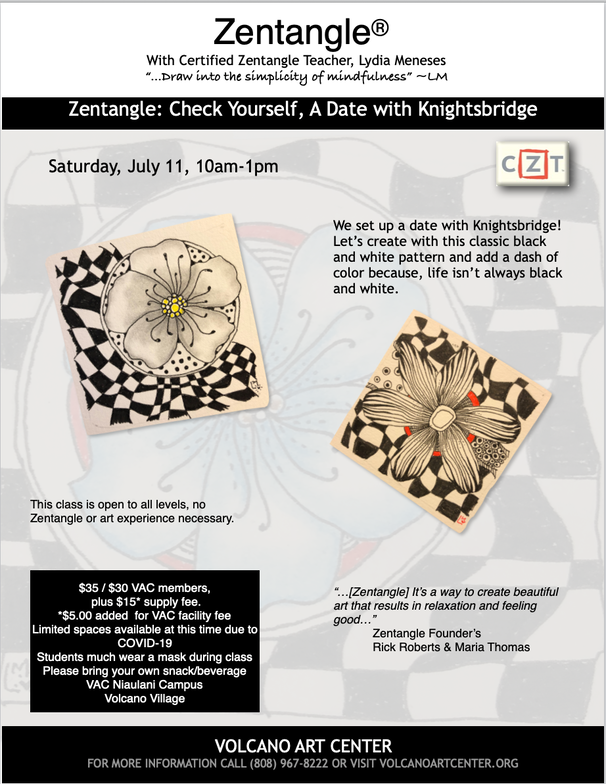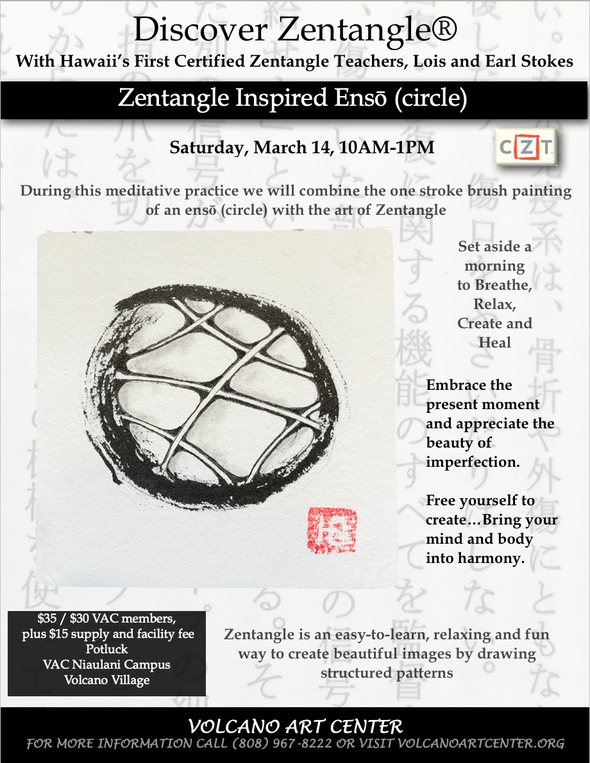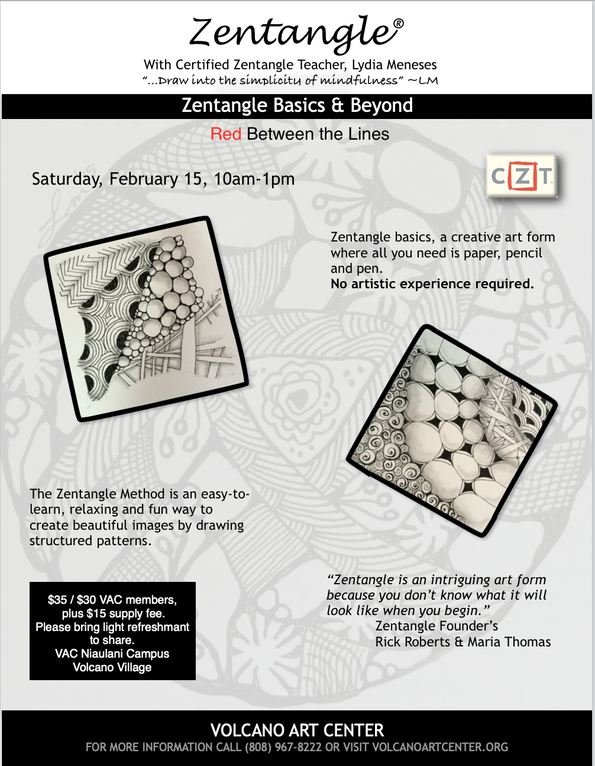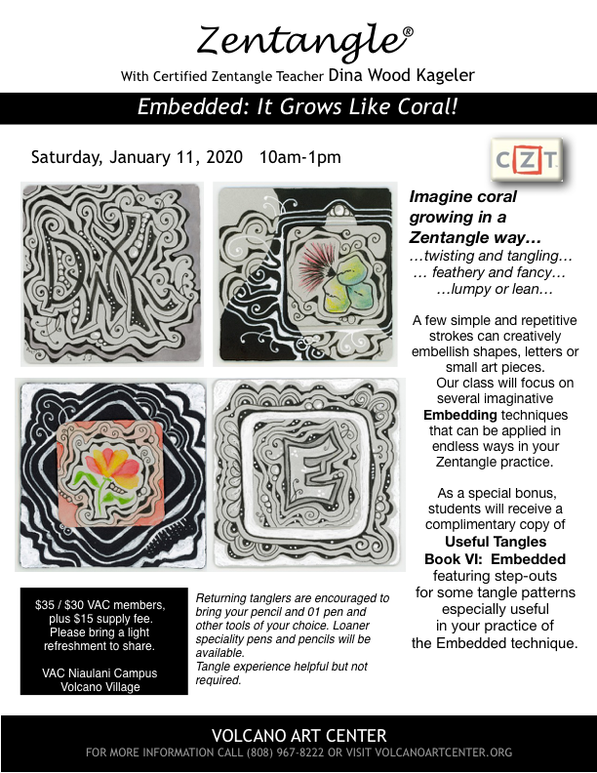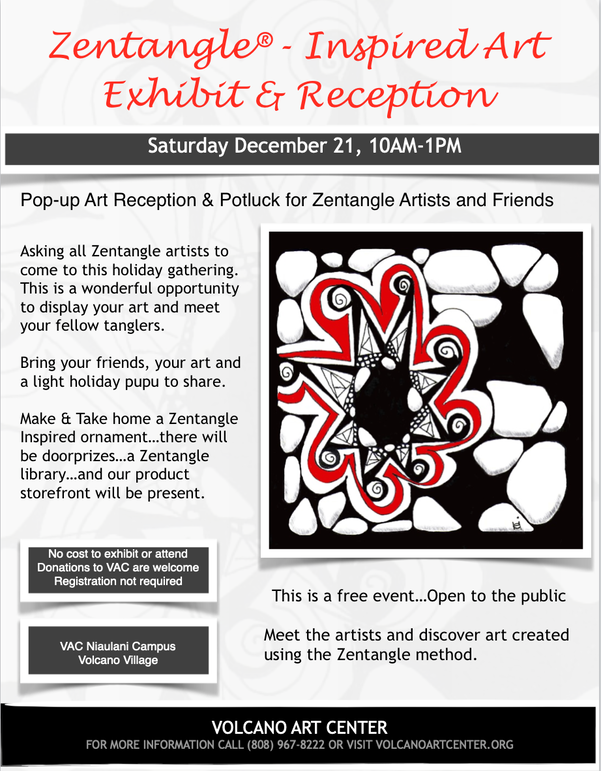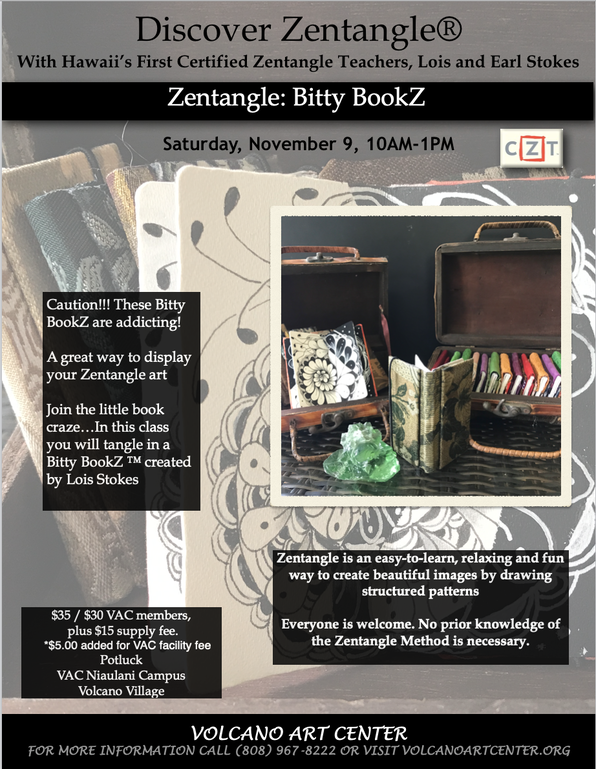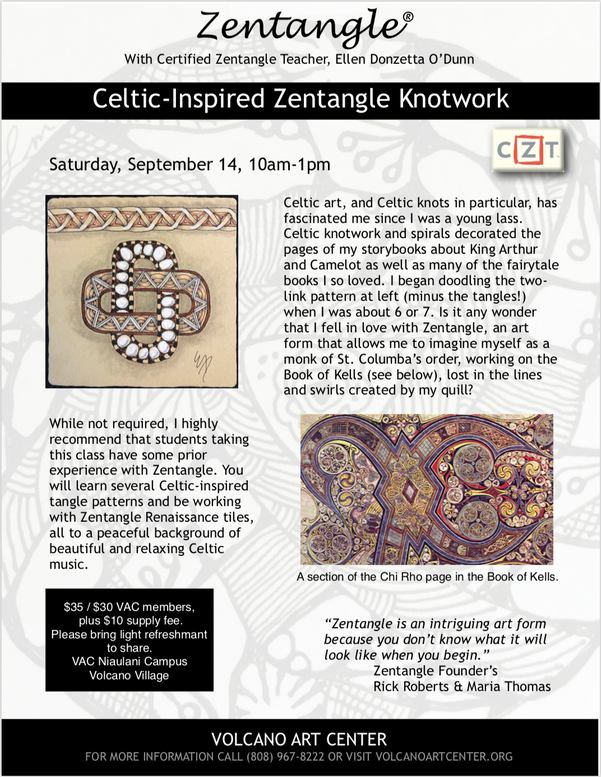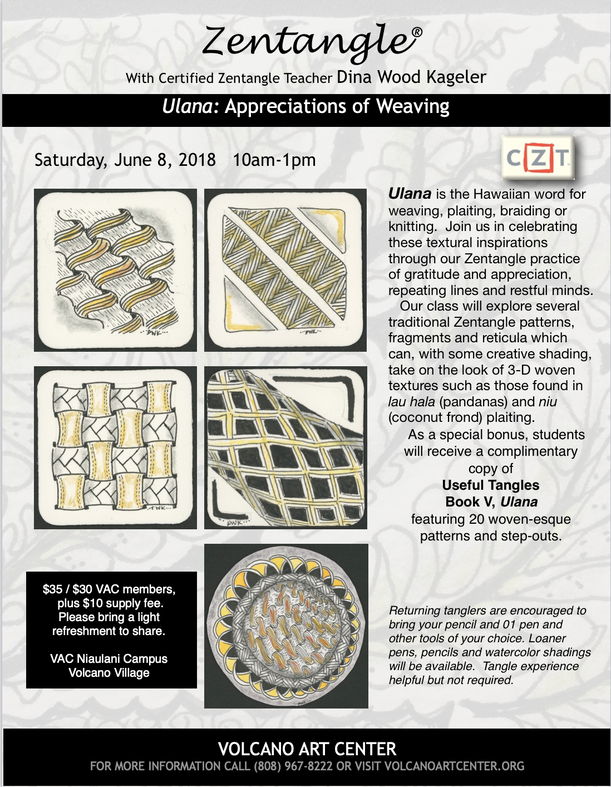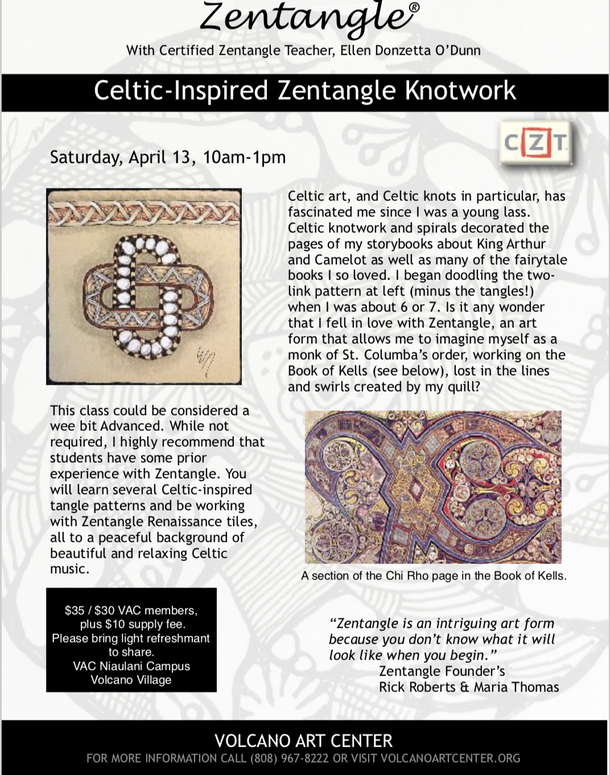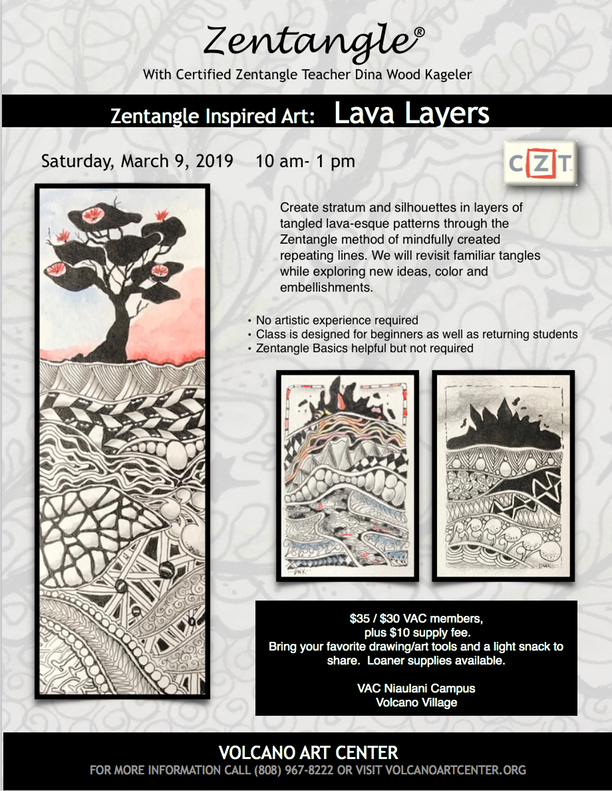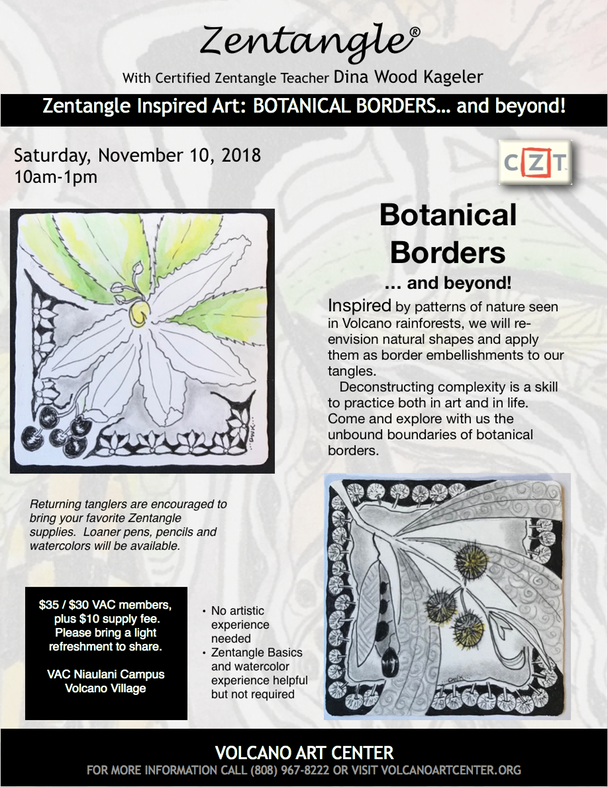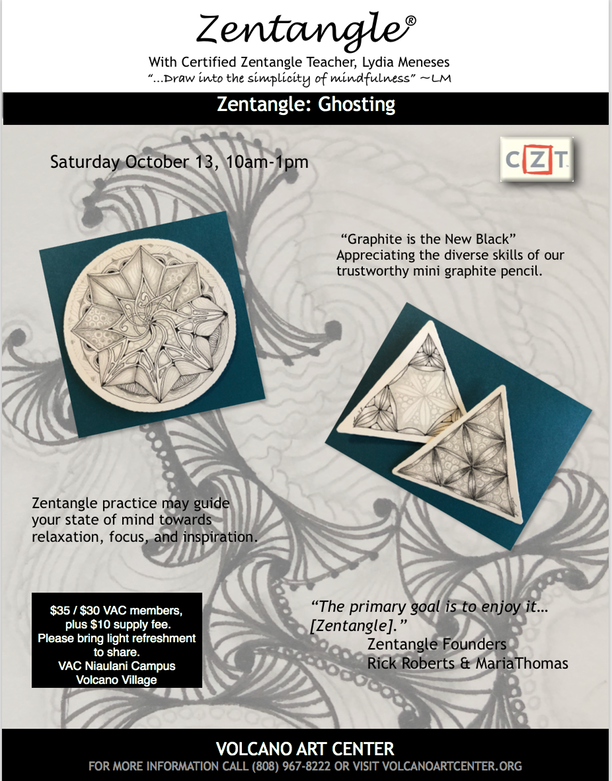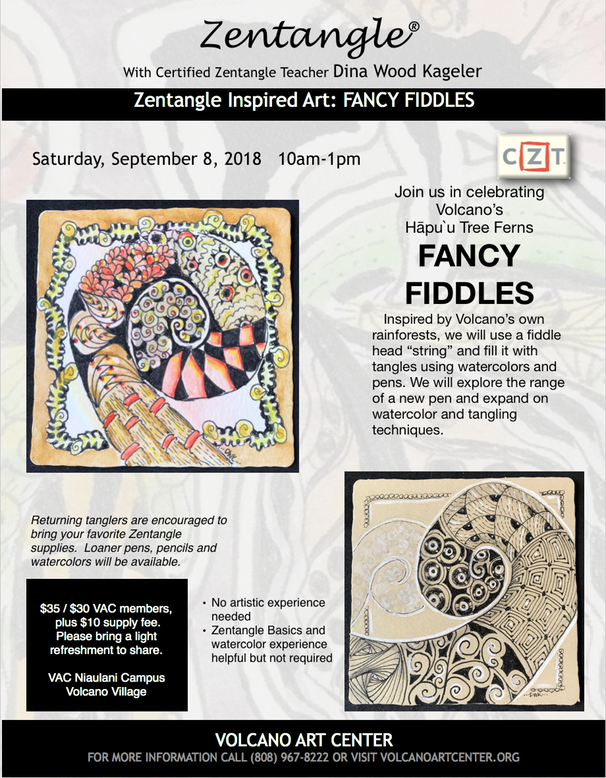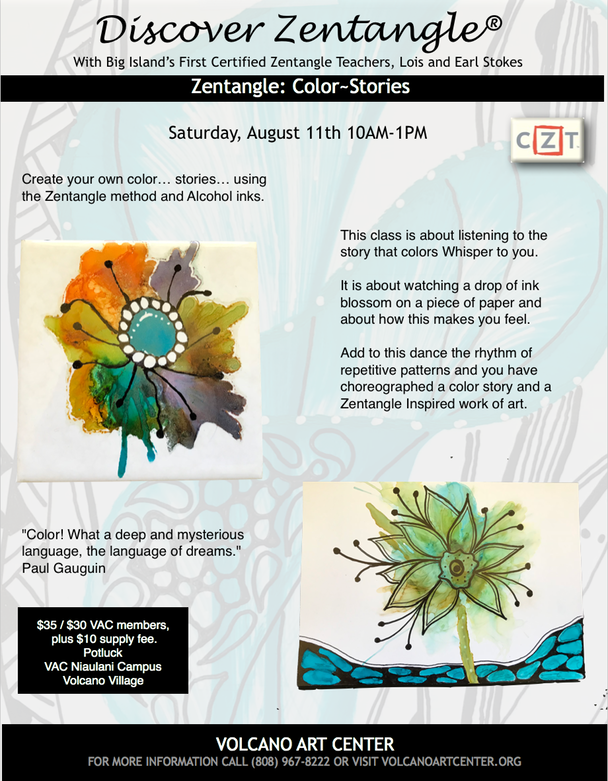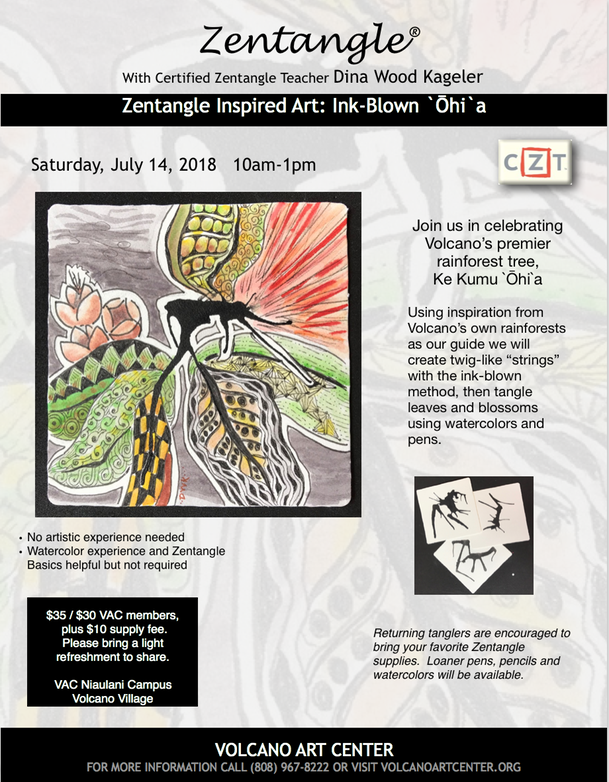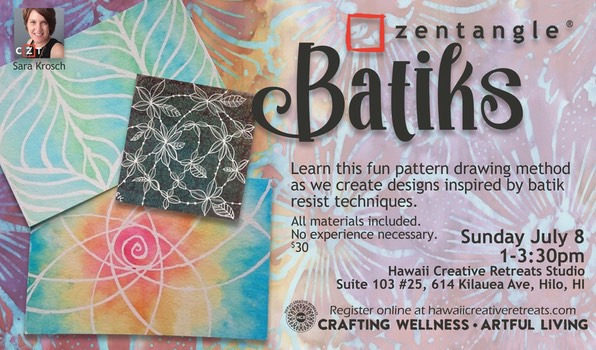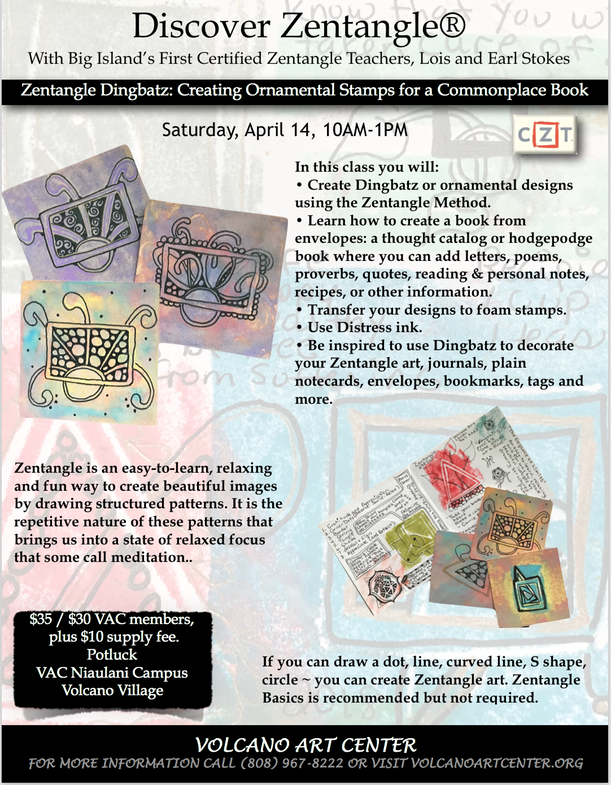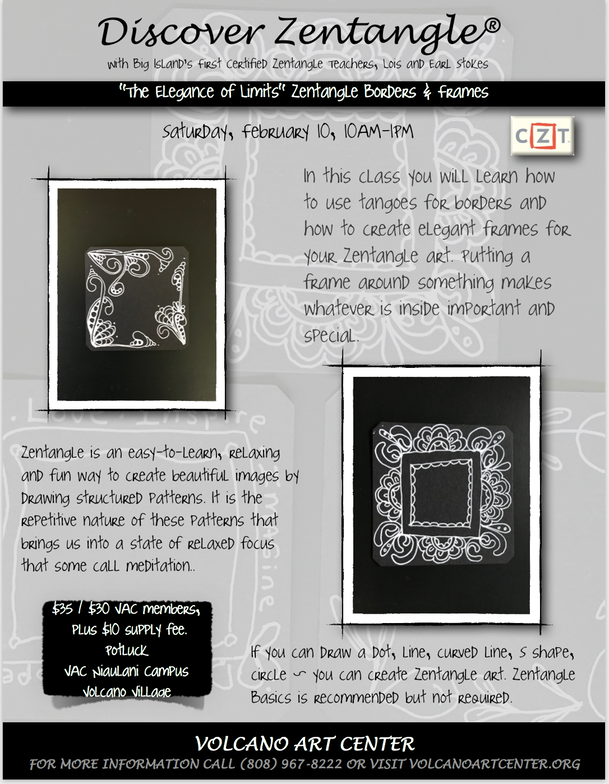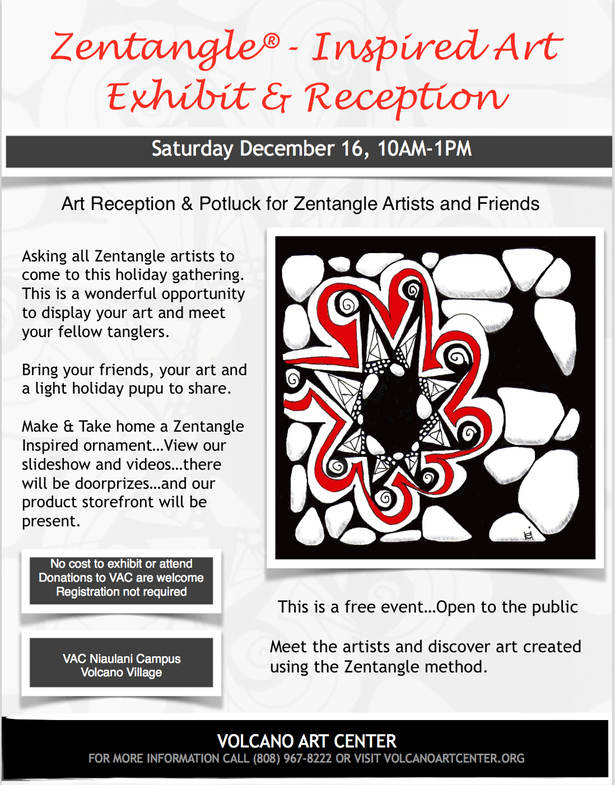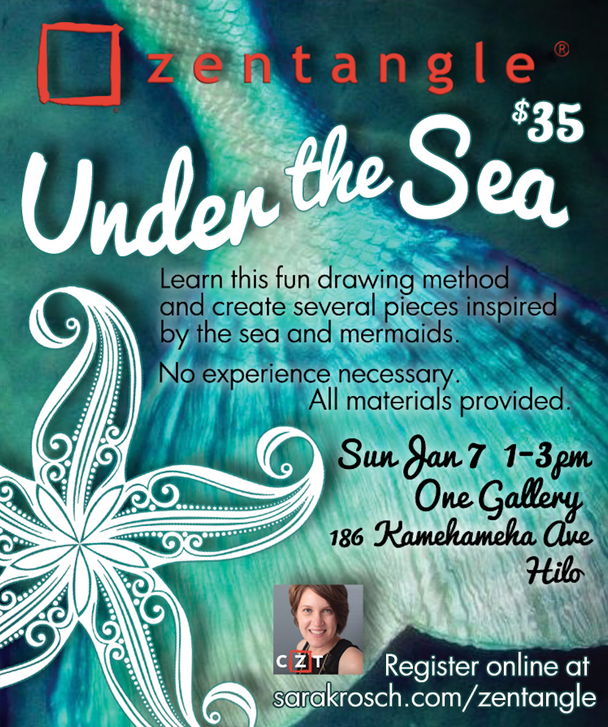 With Sara Krosch 
Zentangle Non-Credit Course at UH-Hilo
Attend an open house Saturday January 6, 10-1 at the old Gym on the University of Hawaii- Hilo for non-credit, continuing and community education course demonstrations and registration. 

Certified Zentangle Teacher, Sara Krosch will have an information booth and provide a demonstration at 11am to promote her 'Zentangle Basics & Beyond' class offered Feb 11 and 18, 1-4pm. Course fee of $75 includes materials.
With Sara Krosch
Hawaii Creative Retreat- Mindfulness & Mandala Stones
Wednesday January 10
2:30 - 4:30
Aloha Wellness Center
239 Haili St, Hilo, HI 96720
$35 includes instruction and all materials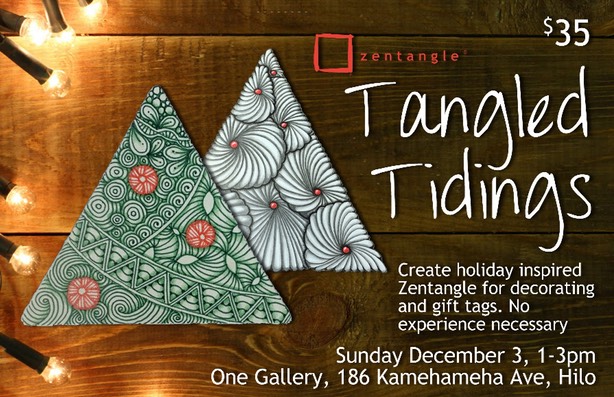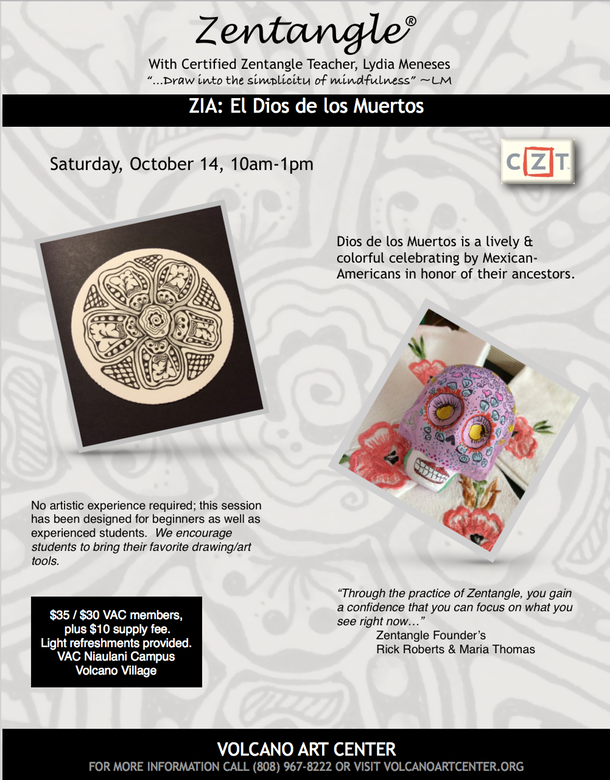 Sara Krosch, CZT
          Sara Krosch, CZT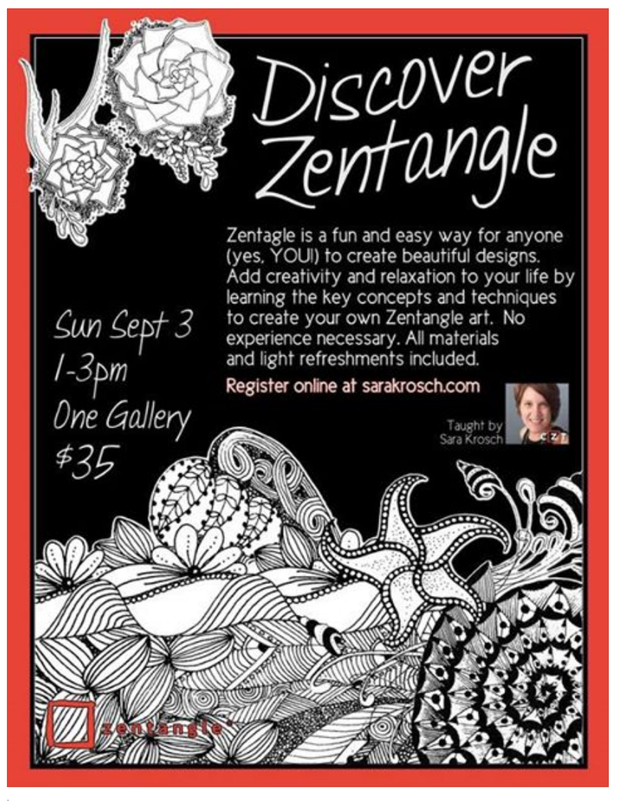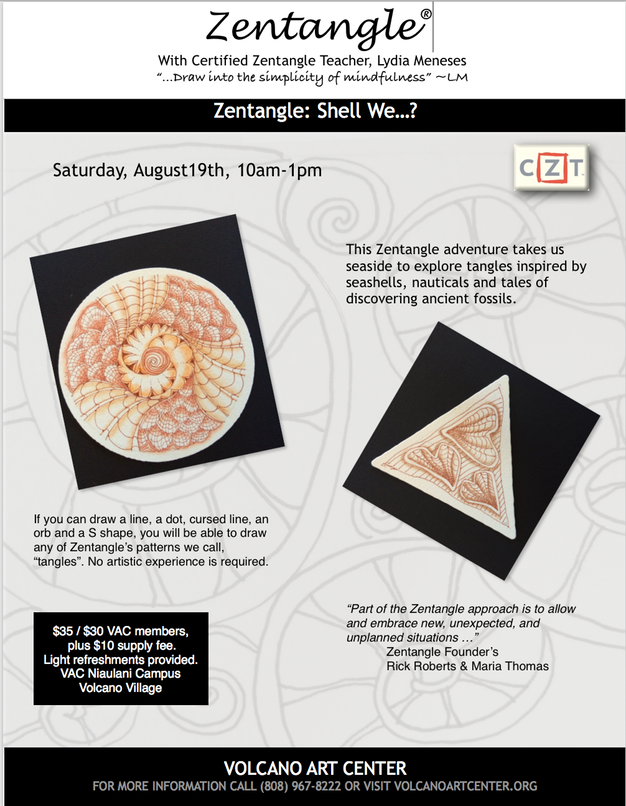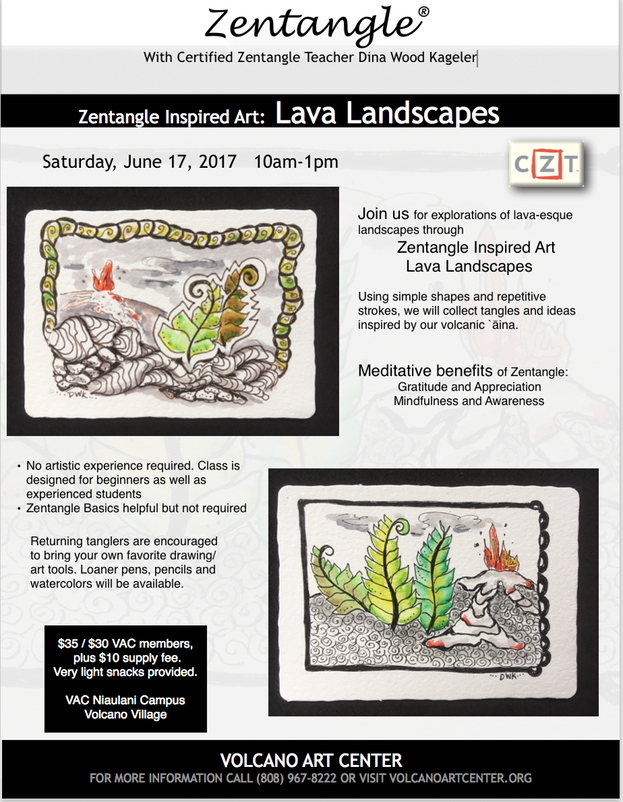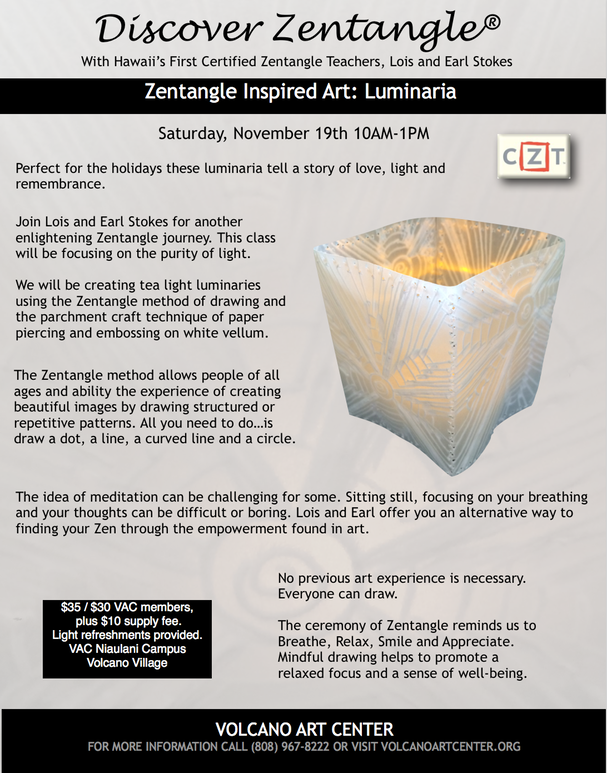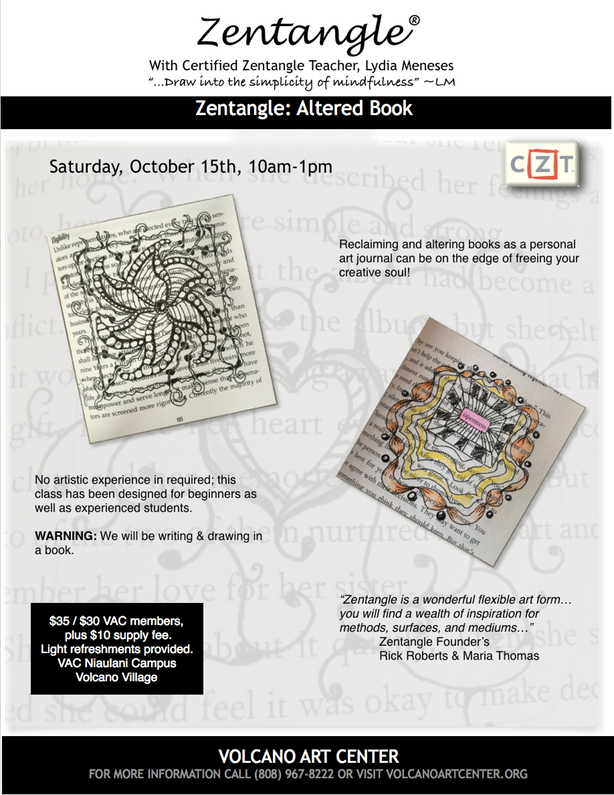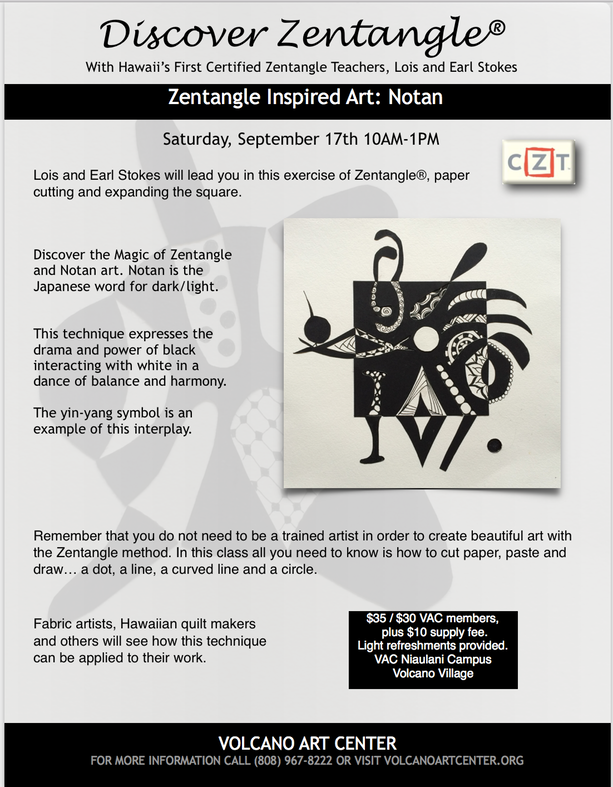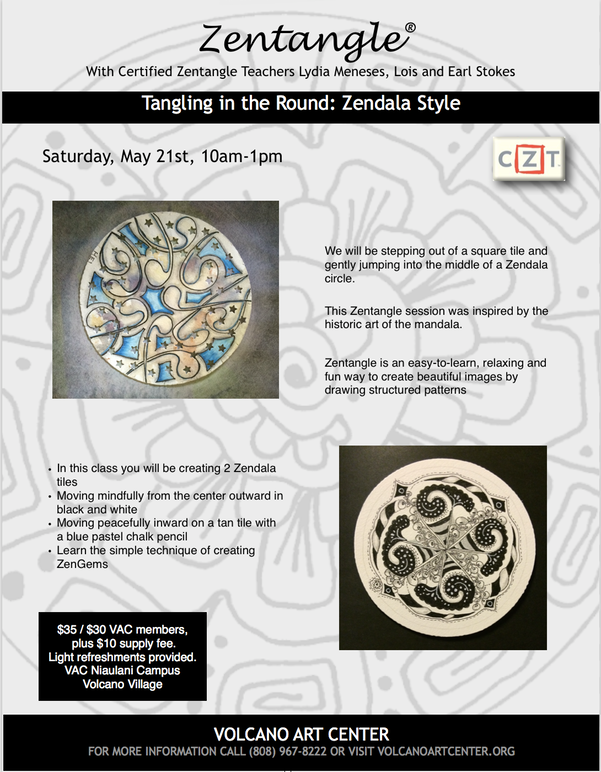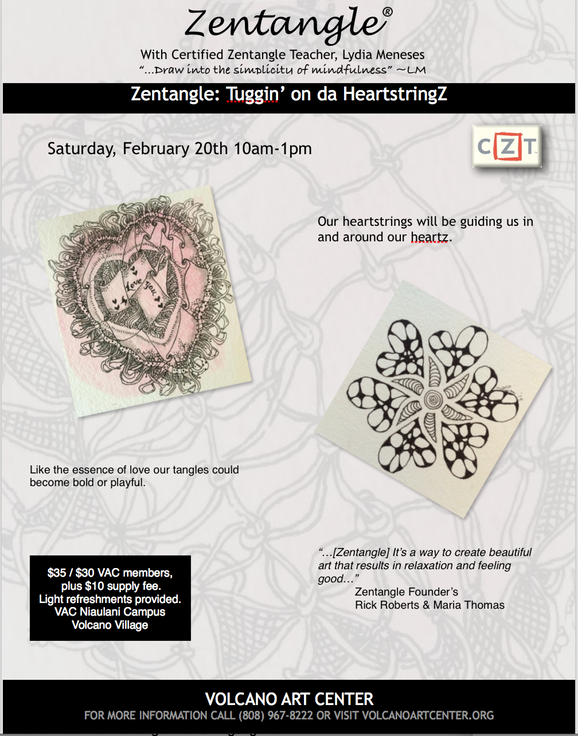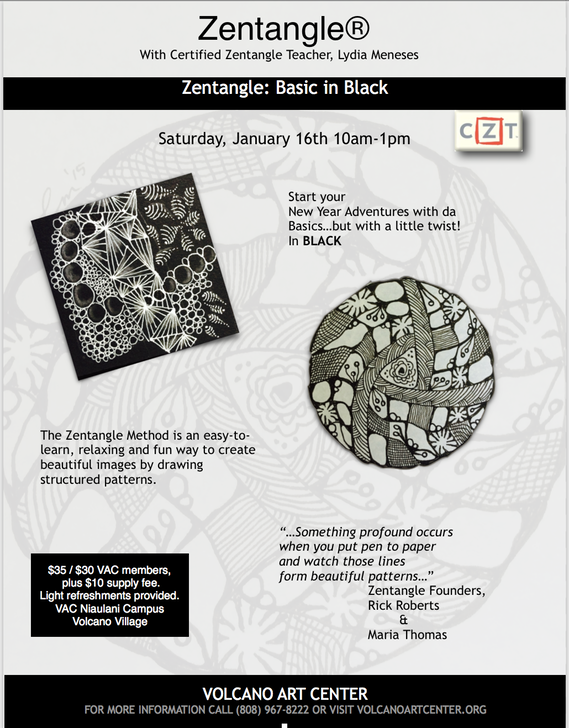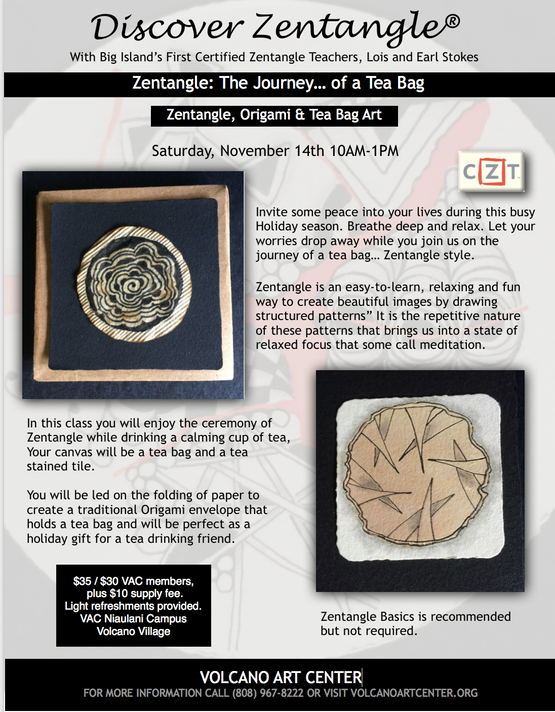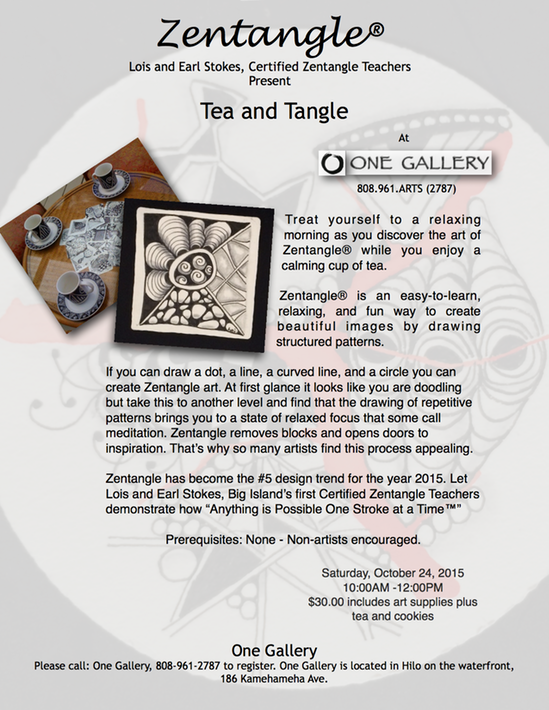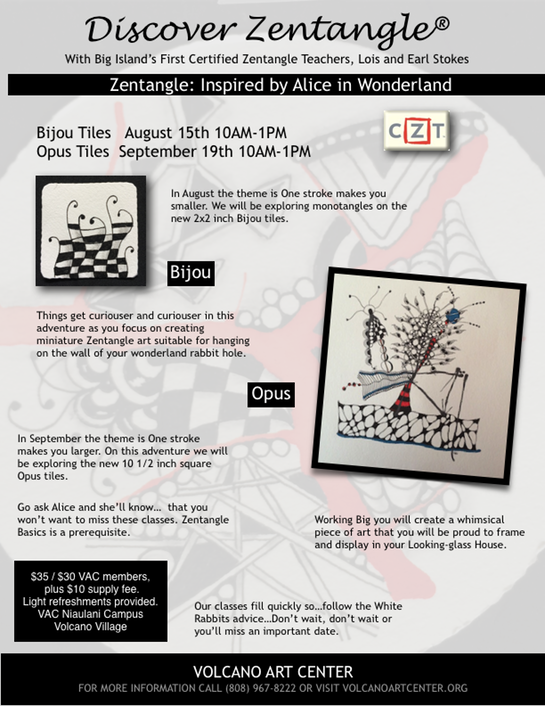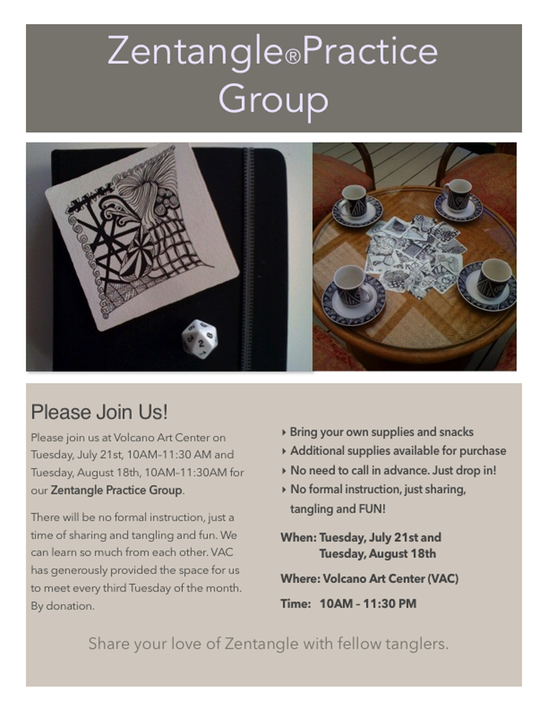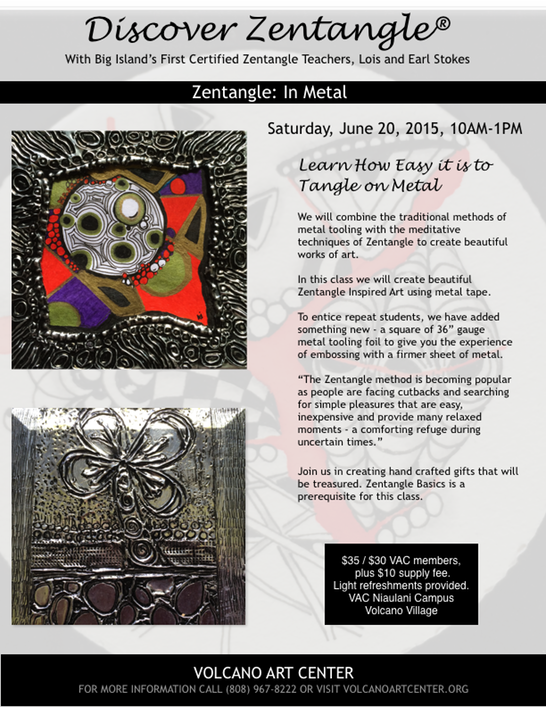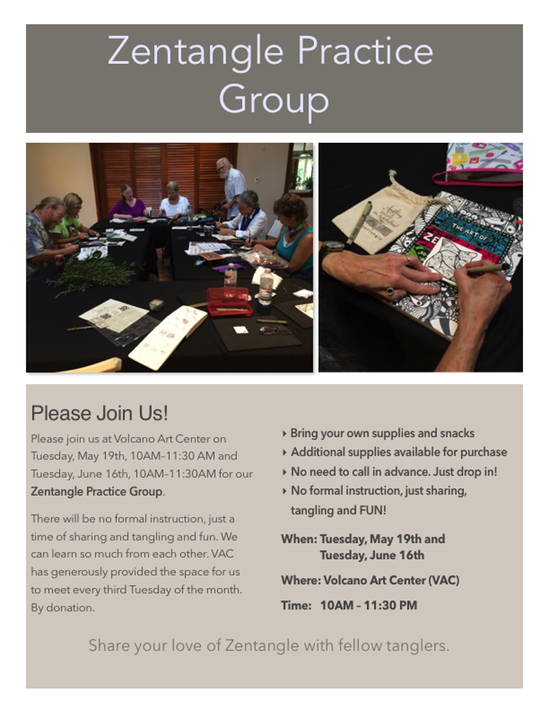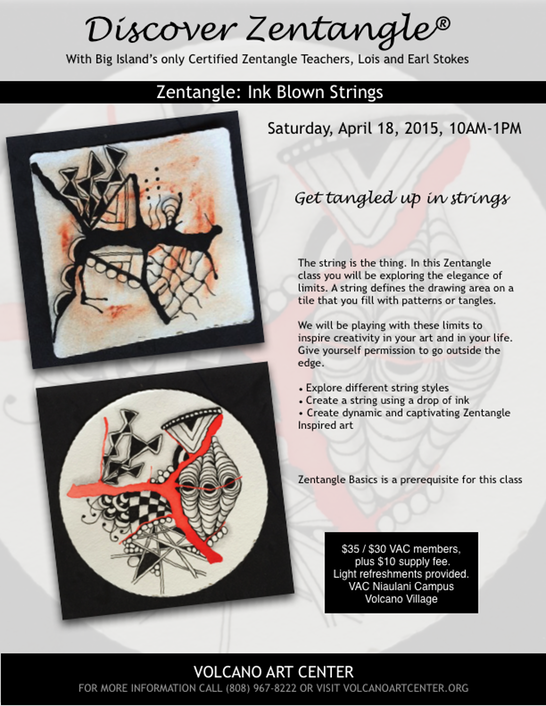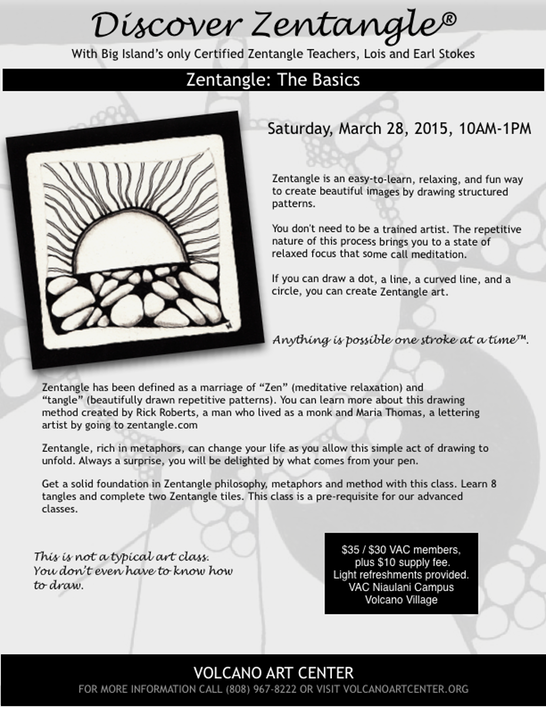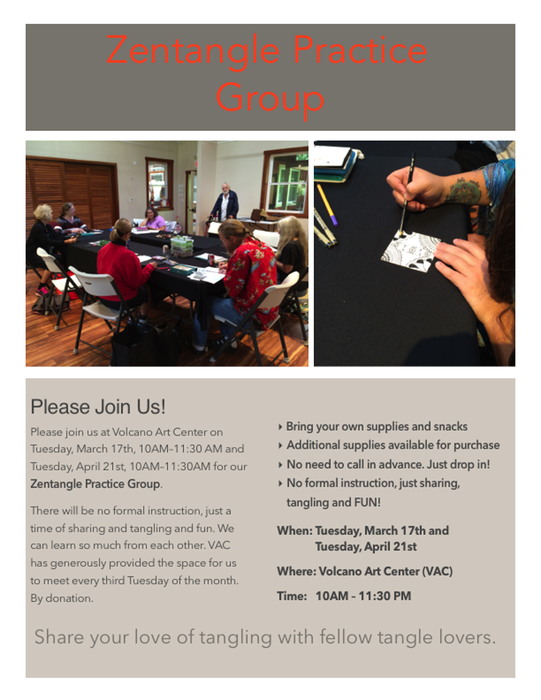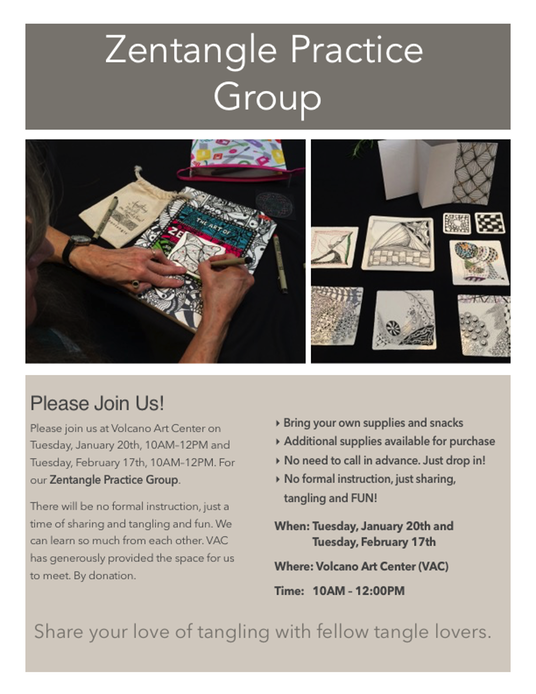 Tuesday November 18, 2014 and Tuesday December 16, 2014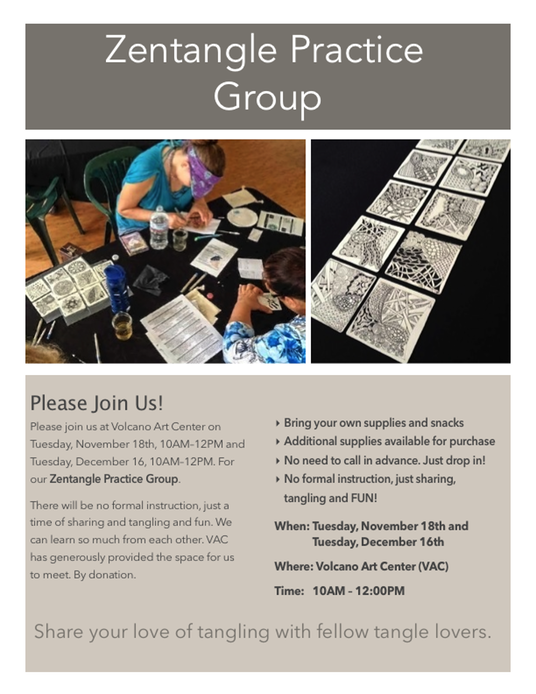 Saturday November 1, 2014 and Saturday November 22, 2014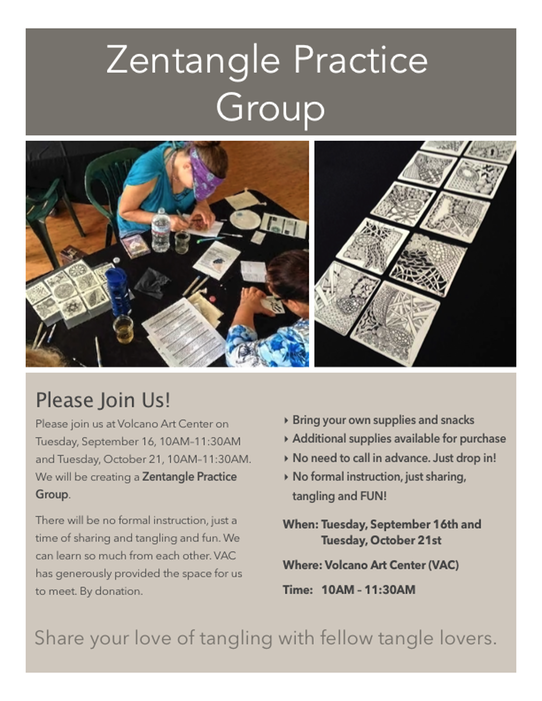 Saturday August 2nd and Saturday August 30, 2014

July 4, 2014 Zentangle Demonstration at Volcano Garden Arts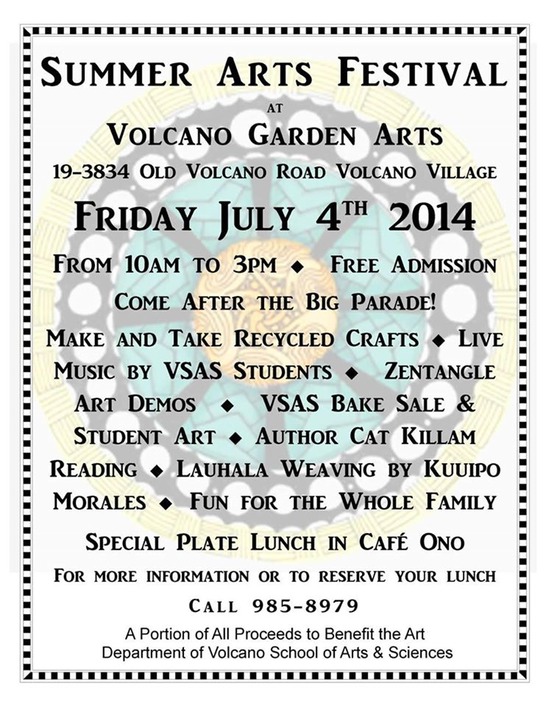 Saturday June 7th and Saturday June 21, 2014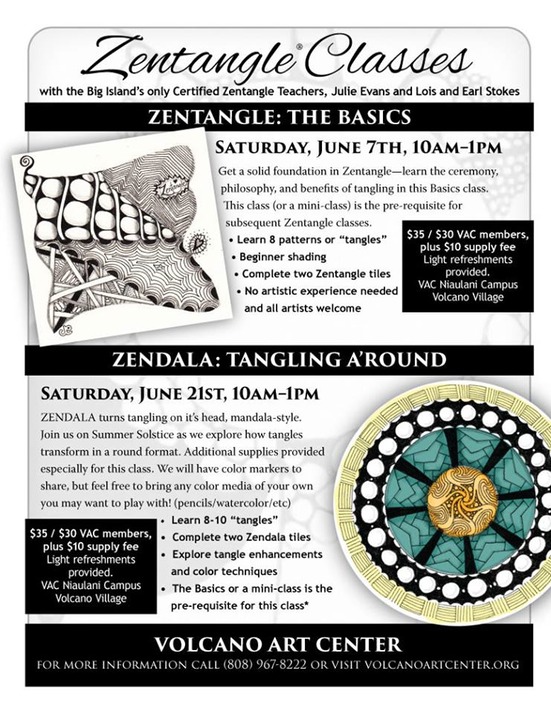 Tuesday May 27, 2014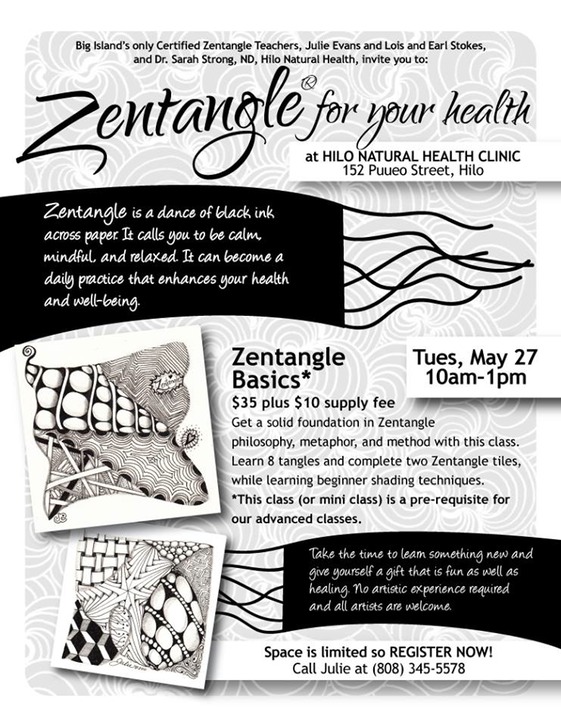 We will be having a busy March and April
Zentangle® is an easy-to-learn, relaxing, and fun way to create beautiful images by drawing structured and repetitive patterns.
You may have been one of the lucky persons to have found, one of Lois and Earl's Tangled Leaves. Each Sunday at the Cooper Center Farmers Market in Volcano, they hide these Random Acts of Zentangle Inspired Art for someone to find, take, re-hide or giveaway.
A Free Demo
Join Lois & Earl Stokes and Julie Evans, Hawaii's Certified Zentangle Teachers, at the Cooper Center Swap Meet on Saturday, March 22nd for a free demonstration of the art of Zentangle from 8:30am - 12:00pm. 
A Mini Class
On Swap Meet Saturday, April 19th you will receive a free mini lesson if you purchase a Zentangle Class Kit for $10.00. These mini classes will be held every hour from 8:30 - 11:30. 
Zentangle supplies and art will be available for purchase. 
Friday April 11 and Saturday April 26
We held a class at the Volcano Art Center, Niaulani Campus on Saturday February 22, 2014.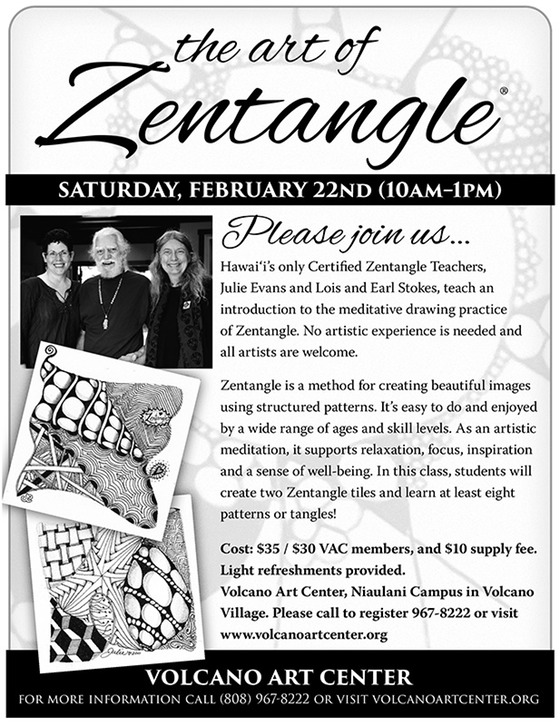 2015